Post by Zabuza Momochi on Jun 22, 2012 15:02:11 GMT -5
Character Name:
Zabuza Momochi
Gender:
Male
Appearance: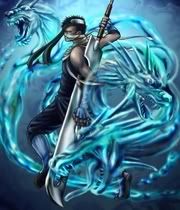 Village:
Kiri Missing-Nin
Fighting Style:
During his time as a Kirigakure-nin, Zabuza was one of the Seven Swordsmen of the Mist, a group composed of the village's top swordsmen. The generation of swordsmen he belonged to was noted as the strongest ever produced within Kirigakure, a further testament to Zabuza's impressive skills. Zabuza's signature weapon was the Kubikiribōchō, an over-sized broad sword, whose shape was thought to decapitate enemies. This large weapon has the unique ability to absorb and utilise the iron from all the blood it sheds, from whoever it cuts, in order to reform itself. Zabuza was a master in its use, being capable of dispatching numerous enemies with a few slashes, and claiming that his sword "never cut a second time", implying to have killed a large number of people with a single attack.
The weapon's weight didn't seem to slow Zabuza down at all, as he could employ it in combat for extended periods of time with no visible strain on himself, something Suigetsu Hōzuki hasn't achieved. Apart from handling it very skilfully, Zabuza could also throw it spinning at several enemies with enough power to lodge itself into a hard tree trunk.
He also wielded a kunai with a sharp protrusion on one side (which in the anime is Kirigakure's variation of the standard kunai), designed for thrusting and stabbing instead of slicing, which fit his stealthy attributes perfectly.
Zabuza had great skill in Water Release techniques. He could perform several of them while keeping a separate one active, as seen when he kept Kakashi trapped in the Water Prison Technique while at the same time attacking the rest of Team 7 with a water clone; he could maintain several of these clones at the same time, often using them as diversions. He also showed proficiency in large-scale, highly destructive water-attacks from launching powerful torrents of water in the forms of dragon missiles and giant waterfalls at his opponents.
Zabuza was especially adept at the Hiding in Mist Technique, as it made his Silent Killing even easier to perform. By blanketing the area in a thick mist, Zabuza could blind his targets, making it even more difficult for them to defend against him. Though he would be blinded too, Zabuza could strike his opponents without the need of sight, instead focusing on any slight sounds made by the opponents. In this manner, Zabuza was capable of carrying out stealthy attacks even in completely open spaces, able to suddenly disappear from enemy's sight and then strike unseen. His skill with this technique was such that he could create an impenetrable mist without the need of an immediate source of water nearby. Even Kabuto Yakushi kept Zabuza's use of the technique in high regard, as seen when he was willing to sacrifice other reincarnated shinobi to protect Zabuza and keep the Hiding in Mist Technique going.
Weapons:
Kubikiri Hōchō (首斬り包丁; English "Executioner's Blade"; Literally meaning "Decapitating Carving Knife")
Jutsu's:
Hiding in Mist Technique
Silent Killing
Water Clone Technique
Water Prison Technique
Water Release: Great Waterfall Technique
Water Release: Water Dragon Bullet Technique
Personality:
Zabuza was initially portrayed as aggressive, arrogant, cruel, cold and ambitious, willing to become Gatō's thug to gain enough funds to start a second coup d'état on the Mizukage, and kill anyone who stood in his path, including plotting to kill Gatō once he had received enough funds from him. His reputation for cruelty and ruthlessness began as a child where he killed every single candidate in Kirigakure's Academy, earning him the moniker of "Demon of the Hidden Mist" (霧隠れの鬼人, Kirigakure no Kijin). He willingly uses his own men and others as pawns to fulfil his ambitions, as he raised Haku to be an efficient tool to be discarded when he had no use to exploit; although unlike future villains, he was blunt about the purpose that his recruits were needed for, lacking the manipulation of pretending to be kind to inspire loyalty.
He is an observant adversary who is able to analyse his opponent's techniques after seeing it once, but becomes overconfident if he sees the technique as useless. In his last moments, it is revealed that he cared deeply for Haku, and after being convinced by Naruto Uzumaki, he sacrifices his life to kill Gatō, and dies wishing he could join Haku in the afterlife. However, he seems reluctant to speak or hear about it, telling whoever does so to shut up. Kakashi has also noted that Zabuza had hesitated for a moment before the thought of slashing through Haku to get to Kakashi during their battle on the bridge; the lack of hesitation during the Fourth Shinobi War made Kakashi know that the controlled Zabuza was completely different.
He has also shown a sense of honour, as seen after his reincarnated when he expressed disgust about the idea of working for anyone who would stoop down so low as to use the dead as their tools, in the meantime making the revived immortal. His sense of honour is extended even further when he pleads with Kakashi to stop him and Haku from causing damage.
Age:
26 (29 if you count the time skip to his age.)
Rank:
Missing-Nin
Fears:
Nothing
Past Up Till Now:
In the past, Kirigakure had the practice of pitting Ninja Academy graduates against each other in a battle to the death for a final exam. After Zabuza, not yet a student himself, killed all one hundred of that year's students, the practice was discontinued. Zabuza would thereafter be known as the "Demon of the Hidden Mist". His fame grew over the years, as he became both an ANBU and a member of the Seven Ninja Swordsmen of the Mist, killing the Konohagakure ninja Kumade Toriichi during his career. At some point he discovered Haku, a child with a special kekkei genkai and began training him to be the ultimate weapon. In time he attempted to kill the Mizukage in a failed coup d'état, and subsequently fled with Haku and some other followers, such as the Demon Brothers.
Family:
N/A
RP Skills:
It was morning in the Land of Water, and everything was still wet from a downpour last night. Deep within the cold and wet forest where no one would ever hear a single scream. Not so much as a peep would ever escape, no matter how loud one were to scream. There would be a lone ninja that would appear to be Hidden Mist ANBU. As the ANBU ninja tried his best not to seem scared, you could tell that was scared out of his mind just by looking at him.
At one point the one ANBU ninja was a part of a team of four. However, that was until his teammates were cut down by their target. Their target for this mission was none other than, The Demon of the Hidden Mist, Zabuza Momochi. As the ANBU ninja struggled to regain composure in Zabuza's Hiding in Mist Technique. The ANBU ninja would make one critical error that would cost him his life. He forgot to keep his environment in mind. This mistake would be tripping over a root from a tree, as the ANBU ninja stumbled and fell over. That gave Zabuza more than enough to make his final and only attack against this ninja.
As the ANBU struggled to get to his feet as soon as possible. It was already to late as Zabuza's made contact with the ANBU ninja. The battle was now over, but that was obvious since Zabuza's sword cut right through the ANBU ninja. Not just one, but an entire squad of four ANBU ninja. Although, it wasn't that hard for Zabuza to cut them down since the ANBU ninjas were using a formation he created. As Zabuza placed his massive sword on his back, he began to make his way back to his hideout.
Other Characters:
None