Mayaku
Oct 2, 2010 21:23:20 GMT -5
Post by Asura on Oct 2, 2010 21:23:20 GMT -5
Character Name:
Mayaku
Gender:
Female
Appearance: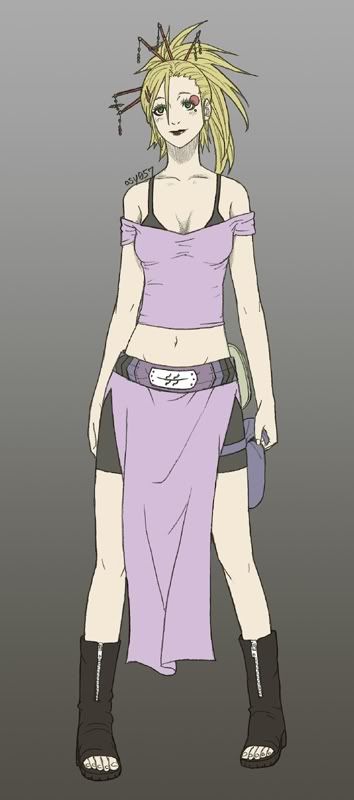 Mayaku has a very slimy and dirty appearance. She is pale and a bit unkempt. She gives off the impression of a lewd and mean woman. She normally wears a rather smug expression and her voice is deep and mocking. She is usually seen with a long, slender, maroon pipe and she has very long maroon fingernails. She also wears a belt with vials of various poisons on it.
Village:
Formerly Kirigakure
Fighting Style:
She has a very rogue and unorthodox style. She either slashes with her fingernails, and when using her sword, she simply holds it with her right hand and lets it hand lazily at her side.
Weapons:
She has long fingernails, a pipe with a sharp reed, and a three-foot long lim katana with a rugged edge from poison erosion. She has 8 different vials on her belt containing poisons with different effects. The first is purple and is a simple concoction. It tampers with the victims nervous system upon contact with the bloodstream and causes them to see illusions normally involving spiders, scorpions, and snakes. The second is pink and causes drowsiness upon contact with the bloodstream. The third is yellow and paralyzes the victim slowly, starting with the limb contacted, then moving outwards. The fourth is blue and tampers with the victims nervous system, inverting all their reflexes. (example :If they try to run forward, they'll run backwards, if they try to swing their right arm left, they'll swing their left arm right.) The fifth is green and causes the victim's movement speed to drop considerably. The effect strengthens as more poison is added. The sixth is a purple powder. It is gives an ecstacy-like effect. The victim will become considerably happier, more romantic, emotional, and overall much less violent and aggressive. This poison takes effect through inhalation and Mayaku normally smokes this powder herself. The seventh vial is a black powder that takes effect through the lungs and blinds the victim. The last vial is a silver powder that gives the victim violent and random seizures upon inhaling it.
Jutsu's:
Only basic jutsu.
Personality:
Mayaku is a very vile, vain, violent, and sultry woman. She has very little compassion for most things. She doesn't particularly care for most of her "friends." Mayaku's true joys in life aren't completely clear. She does seem to like fighting, torturing people's minds, making enemies, and promiscuously manipulating people to her will.
Mayaku does not particularly have any goals or motives in life. She simply does what she does. She collects heads, but the motive for this isn't quite clear. It could be for her own semi-pyschotic ways, but it could be believed to be just a spoof of Irori's tattoo system.
Age:
21
Rank:
Missing Ninja, formerly Chuunin.
Fears:
Death, boredom.
Past Up Till Now:
Mayaku never knew her father. Her mother and father never married. Mayaku lived alone with her mother all the way till the age of 10. Her mother was a Jonin that engaged in several illegal acts against the village. She owned an underground market and was known to aid many missing nin. Her mother never spent much time with her, needless to say. Unless it was dragging the young Mayaku out to make illegal purchases.
In her academy years, Mayaku didn't make a single friend. The guys thought she was dirty, ugly, and disgraceful. The girls thought the same. She shunned all those who shunned her, giving herself a huge hatred towards most people. She graduated at the age of 12, having just barely passed.
As a Genin, she was but on a team with Irori Fushicho and Ryu Satoshi. She studied in various poisons and swordplay to make up for her own ineptitude in chakra and jutsus. She never admits it, nor shows it, but she eventually developed a bittersweet friendship with her teammates, especially after Irori rescued her from death once. This was the first time anyone had ever shown her
true
compassion, especially a man.
Mayaku's mother was arrested and sentenced to death at the age of 13, during Mayaku's fist run through the Chuunin exams. This distracted her from her fights in the third round and caused her to lose. She showed little sadness for her mother's fate, and this caused great concern for her teammates. This concern and events served as a catalyst for an integral event in her and Irori's relationship.
She passed the Chuunin exams in her second run at the age of 14. She went on missions alone with Ryu at this point, having been forced to leave Irori behind. She showed much anger and disdain towards Ryu and other ninja at this time, being secretly both angry and depressed that her team had been broken up. This behavior would continue for 2 years, till Irori became a Chuunin himself and the team was brought together again.
With her friends brought back to her, Mayaku became a little bit more fun-loving and happier, but still remained her crude and unpleasant self. At this time, age 16, she began smoking. This was due to the fact that at this time, she began to grow tired of having friends. It was stressful for someone like her to be around people she cared about, finding hard to find a middle-ground on how to treat them. She didn't want to show too much affection, in fear of giving them the wrong idea, and she didn't want to treat them too badly, in fear of losing them. She finally grew tired of this stress and began to push them away emotionally.
At the age of 19, she abandoned the village, using one of her mother's old friends to smuggle her out of the village untraced. What has happened since her disappearance is currently unknown. (To be revealed in flashbacks)
Family:
Mitomi (Mother, Deceased: Died at age 31)
RP Skills:
Y'all know me

Summon Link:
(put a link to your summons BIO here if you have one)
Other Characters:
Irori Fushicho.
---
Now:
(none of this is mandatory)
Friends:
Ryu Satoshi (Former Teammate)
Irori Fushicho
Hyoshi Hyoga (Only through affiliation)
Fujisawa (Only through affiliation)
Raiku Nishimi (Only through affiliation)
Team Members:
Irori Fushicho, Hyoshi Hyoga, Fujisawa, Raiku Nishimi.
Personality now:
(it is possible for your characters personality to change as you role play)
What has happened so far:
(Briefly record what events has happened as you have role played)