Post by GM on Mar 9, 2007 21:05:24 GMT -5
I will try to tell you all you need to know about the "Naruto Hurricane Chronicles", I will include some about the first anime but not all.
~~~SPOILER WARNING~~~
About the Counties/Villages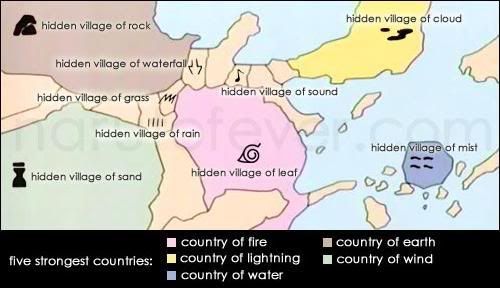 Of all the many villages of the world of Naruto there are five countries that Shinobi are more advanced when it comes to military.
Each of these great counties all have a different leader called a Kage that watch over the village they rule from.
About the Rankings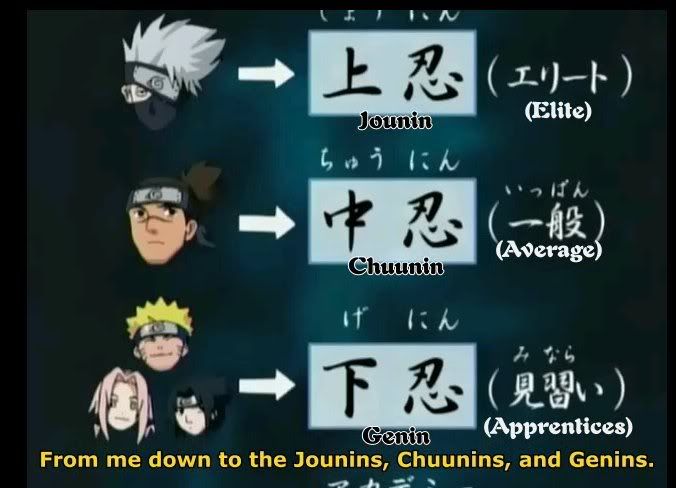 About Chakra
For learning about this, Sakura will lend a hand.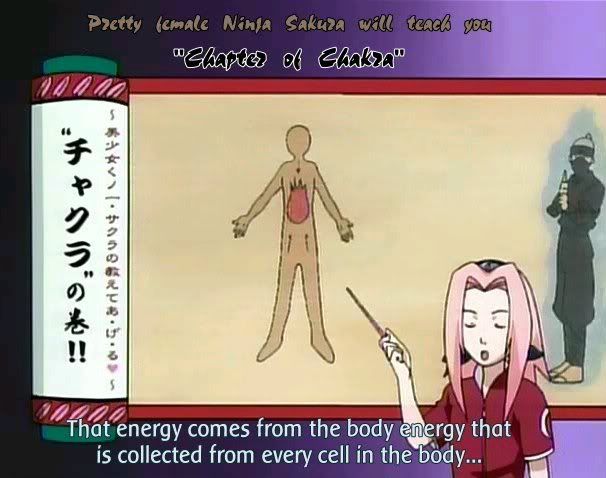 The Characters
The Leaf Village
Naruto
When the nine tailed fox was terrorizing the leaf village, the only way to defeat it was to seal it into the body of a baby boy. This baby boy was Naruto, the main character.
Although the village was sworn to silence the children felt their parents hatred to the boy because of what was within him leaving Naruto to grow up alone.
The creature's power comes out of Naruto when he is hurt or angered greatly but after Naruto returns to the village after training with Jariaya(also called "Perverted Hermit") He seems to have come somewhat truce with the nine tailed fox who gave up his power more willingly.
TenTen, Rock Lee, Neji
Starting with
TenTen
(on the left) we do not know that much about her. We know that she like to use many of different weapons from her scroll.
Rock Lee
(in the middle) seem to have change the least out of all the characters after the time change. When he first started out as a ninja in the academy he had no skills what so ever, but he was very determined and with the help of Gai he was able to train hard to develop the skills he wanted. Rock Lee uses only hand to hand combat skills.
Neji
(on the right)
Choji, Shikamaru, Ino
Choji
(on the left) was allways mad fun of in his past but Shikamaru was allways there for him. All his attacks are mostly attacks of fat and strength.
Shikamaru
(in the middle) uses shadow techniques. When he was in school he did not do any of the work, making people take him for dumb, but once out of the academy people discovered that Shikamaru is actually a genius.
Ino
(on the right) is one of the few characters of Naruto that does not appear to have a hard past. She uses mind control techniques and works at the flower shop her mother owns. From the showing of Sakuras past it tells us that Ino has never been the shy type.
Shino, Kiba, Hinata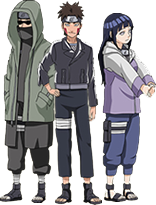 Sand Village
Temari, Gaara, Kankuro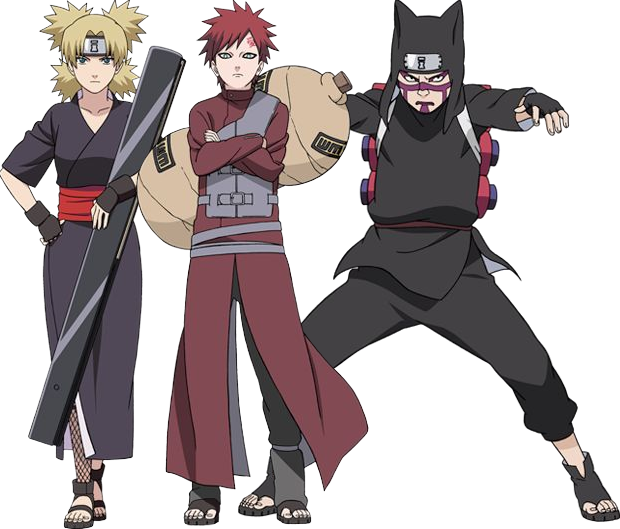 Temari
(on the left) uses wind tecniques to attack. She is the older sister to Kankuro and Gaara. When she was younger she both feared and hated Gaara for the demon sealed within him. The mother of all three died when Gaara was born.
Gaara
(in the middle) was part of a military experiment gone wrong. The two tailed demon was sealed within him but Gaara did not have any control so his father sent his aunt to kill him. This did not work but Gaara did get control, while also gaining an evil heart. This left after he lost a fight to Naruto and he strived to become more than just a monster. He became leader of the sand village.
Kankuro
(to the right) uses puppets to attack with inisable strings of chakra. When he was younger he feared Gaara but now(like his sister) he would do anything possible to save Gaara. Kankuro is older then Gaara but younger then Temari, and can sometimes be a bully.