Post by Lady Tsunade on Sept 20, 2010 10:34:24 GMT -5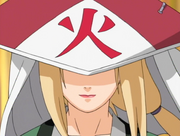 Name:
Tsunade Senju[Presumed]
Age:
50
Gender:
Female
Rank:
Kage
Occupation:
Medical Ninja
Earned Titles:
Worlds Greatest Medic, Princess Tsunade
Village:
Konoha
Signature Jutsu:
Chakra Enhanced Strength
Chakra Scalpel
Creation Rebirth
Four-Corner Sealing Barrier
Genjutsu Binding
Healing Chakra Transmission
Important Body Points Disturbance
Killing Hands Technique
Mystical Palm Technique
Legendary Heel Drop
Summoning Technique (Katsuyu)
Shunshin no Jutsu
Yin Seal: Release
Kage Bunshin no Jutsu
Appearance:
Even though Tsunade is fifty years old, she retains a young physique through a Transformation Technique which is constantly in play. She has a purple rhombus-shaped seal on her forehead, a chakra deposition spot which she has named the 'Yin Seal'. Tsunade has very pale skin and light brown eyes. She also has blonde bangs which part at the top and fall down on either side of her face.Her long,(very pale) blonde hair is tied into two ponytails using hairbands; which, match the colour of the seal on her forehead.
Usually while working in her office she wears a green robe with the kanji for gamble written on the back . When she is wearing this, underneath it would be a gray, sleeveless,kimono. This Kimono is held in place by a blue Obi which wraps itself around her waist. The colour of this Obi matches that of her trousers. Which are, comparitively short when compared to other trousers. Her blouse is really quite revealing.Her rather large cleavage can be seen clearly through the opening in her Kimono like Blouse. She wears high heeled sandals with nail polish on her tos; which, can been clearly through her shoes.This nail polish is of the same colour as her Obi and trousers,a dull, dark blue colour. She also wears a green, crystal necklace around her neck, which sits atop her chest. The necklace was said to be worth huge value.
Fighting Style/Abilities:
Tsunade is a taijutsu master. Being able to reduce rocks and walls to rubble with a flick of her finger. Her brute strength is so great she can easily lift Gamabuntas sword, and move it through mid air. Gamabuntas sword is at least 100 times her own weight. She is also very adept at evasive movements. Being able to dodge and throw herself out of most attacks which come her way. Even after releasing all of the chakra in her Yin Seal, completely draining her of chakra, she was able to jump a massive distance in moments, and stand up to Pein and fight him. She was able to react against the speedy Asura path, throwing a punch at him before he even reached her. However - Naruto got there first.
On top of her taijutsu abilities, she is able to utilise her medical jutsu in combat also. Ranging from scalpels made of chakra - able to cut through metal, to chakra which can kill the cells in ones body with but a touch. In fact, Tsunades medical abilities are so great. That she can regrow entire limbs or organs using her Creation Rebirth technique. A technique that constantly regenerates lost cells over a short period of time. During this time, she is practically unkillable. By combining this huge strength, evasive movements and incredible medical knowledge. Tsunade is extremely deadly at close range.
However, thats not to say she cannot fight at long range. Her personal summon - Katsuyu. A giant Slug who is 100 metres tall. Can spit gargantuan blasts of corrosive acid from her mouth. This acid can melt rock, earth or anything else in that category, with ease. On top of that, Katsuyu can divide into hundreds of smaller divisions. Which can be infused with medical chakra to heal several people at once, or can spit acid from several directions to make evasion even more difficult. Katsuyu can also absorb sentient beings or objects into her body upon touch, suffocating and killing them if they're not careful. Her tanking abilities are also immense - being able to tank Peins Chou Shinra Tensei , which was capable of destroying all of Konoha in mere moments. It should also be noted that a pocket sized Katsuyu could withstand the burning chakra cloak of the Kyuubi.
Tsunade can rip huge pieces of earth from the ground with her bare hands and throw them great distances with her massive strength, she can also punch the ground and make sheilds of earth rise to protect her from attacks. This can provide useful when she doesn't have room to avoid. She is fairly competent with Genjutsu, being able to immobilise The Two Legendary Stupid Brothers at once. She is also a very skilled Seal user. Being able to formulate the seal on her forehead, which can store great masses of chakra for later use. She was also able to make a seal strong enough to seal away a Bijuu, though it needed four people with high chakra control , such as herself, to do. Finally, she was able to form a seal on Kakashi head which activated his Kamui as soon as an enemy Hiruko was in sight of him. Kakashi was put under a spell, making unable to attack on his own, hence why the seal was placed.
Tsunade uses Creation Rebirth
Personality:
Tsunade displays a tough attitude,she readily criticizes others for their wrong doings, such as small children and their immaturity, or older men for their perversion, although generally- her own behaviour is just as bad. Should the occasion arise, though, Tsunade shows sympathy for others,saying that, even through failing a mission, as long as all members taking place in the mission survived, nothing majorly upsetting is in play, she also seems to have a keen respect for those that try their best, never give up. Perhaps this respect is linked in with The Will Of Fire which has been passed on from generation to generation? This kind behaviour also shown when she continually works hard in order to help heal almost any injured or ill innocent person she sees, so that they may continue their life as it were.However, despite this tough and intimidating,she allows herself to cry when in an extreme emotional loss, though not when others are around her. She tries to be as secretive as possible when it comes to emotions.
Tsunade used to think anyone wanting to become Hokage was a fool . However after meeting a young boy whose goal in life was to in fact; become a Hokage- she realizes that this opinion was insulting to the memories of Dan and Nawaki(Her deceased lover and younger brother). She has change in thought.Soon she puts her faith in this boy, and assumes the role of Hokage.Hoping to carry on the dreams of Dan and Nawaki. In gaining such a respectful title , Tsunade intends to show that she has the same level of loyalty to the village that previous Hokage held;happily putting her Village and its people before her own life. Because of her tremendous strength as a Kunoichi, defending the Village and preventing harm to its people generally isn't very troublesome for Tsunade,or at least-she intends to prove this. Tsunade also has a great deal of faith in the next generation, and sees the potential that the younger members of the Village hold.
Despite Tsunades strong willed nature, she just can't seem to stop herself from gambling. And typically, she has terrible luck. As a result, she has been gained status as "The Legendary Sucker" because of the huge quantities of money she has wasted on this addiction. Should there ever be an occasion that she should gain a large amount of money- or have some sort of miraculous luck, she thinks of it as a bad omen.
In life-threatening or important situations that involve someone she cares for in danger, she tends to anger against people who disagree with her views. Should any one of her friends or Village citizens be insulted or underestimated in anyway-Tsunade makes sure her words twist the opinions of the person who made the comment in the first place.
It should also be noted that Tsunade has a pet pig, Tonton,which she cares for greatly.
Tonton
Fears:
After her lover - Dan, and younger brother - Nawaki. Died in battle, she developed a great fear of blood, or a - haemophobia. However, after fighting Orochimaru in battle, and having blood thrown all over her body. She conquered her fear, determined not to die and let Orochimaru harm Konoha .
Past Up Till Now:
Tsunade was always thought of as a talented Ninja, being born into the Senju Clan alone would've told you that. She graduated from the Academy at only 6 years of age.An extremely young and impressive age to graduate at. Upon graduating, she would be placed in a Genin Team with Jiraiya and Orochimaru. She would be under the command of Hiruzen Sarutobi;who, in years to come, would be known as 'Sandaime Hokage' . Hiruzen was an exptional Ninja of skill. And thus in training and teaching three; already skilled Ninja-they would gain even more potential.
Under the guidance of Hiruzen, she learned various things- ranging from basic battle tactics to the Summoning Jutsu. It unsure what age Tsunade met Katsuyu(her personal Summon) at, but it is most likely to be at a young age- considering Katsuyu has such respect for Tsunade, and that Jiraiya and Orochimaru alike were able to Summon at similar ages. From what we can gather, her medical ninjutsu was very advanced for her age during the time she was a Genin.
It is unknown what age Tsunade became a Chunin at, however at a young age it was clear she was already skilled at using advanced Healing Jutsu. It is also unknown what age she became a Jonin at, however it should be assumed that it was in her early to late twenties though ,as she fought in the Great Ninja War without the company of a higher Rank Shinobi. While fighting in The Great Ninja War; Tsunade, along with her teammates Orochimaru and Jiraiya were able to compete with Hanzo, even causing him great difficulties. Hanzo was the Leader of The Hidden Rain Village at that current time. He was an elite Ninja, one in which Team Hiruzen hadn't a hope of defeating. However, with his loss of Ninja.Hanzo retreated. But not before giving the three ninja which stood before him a special nam 'The Sannin' .Which literally means 'Three People'.
In growing up and becoming older, Tsunade and her teammates became known all over the Ninja world as 'The Legendary Sannin' . Tsunade was also referred as 'Princess Tsunade' or 'That Slug Woman' (because of her ability to Summon Slugs).
Soon, she would fall in love with a young man named Dan. Dan agreed with Tsunades idea of putting more Medical Ninja in squads on missions. As it wouldincrease their survival rate greatly.However, Hiruzen and the elders did not agree. Tsunade passed on her grandfathers necklace to Dan, in hopes that Hashirama(her grandfather) would watch over and bring luck to Dan in all his battles. However, Dan died soon after-and so the necklace was returned to her posession. Similarly, this happened to her younger brother also-Nawaki. And because of seeing the death of two of her loved ones, she developed a hemophobia. A fear of blood.
A few years later, her former teammate Orochimaru would begin to experiment on various Ninja, hoping he would gain power and knowledge on Jutsu through doing so. However when Hiruzen found out, he attempted to stop him. However, because Orochimaru was his favourite student-he was incapable of doing so. Orochimaru fled the Village as a rogue Ninja.And after an unknown time, Tsunade would soon legally leave the Village, taking her deceased lover Dans niece with her. Shizune.Shizune was taken in as her apprentice and spent all of her time and life with her for at least 20 years.
Because of her haemophobia, she did not fight for a long time, refusing to have blood spurred upon her.During the time in which she did not fight(at least 20 years or so) she travelled from town to town simply gambling and wasting her life away, with Shizune constantly following her around, keeping her right. For this, Tsunade entrusts Shizune with almost anything, and would be the person she would be most comfortable admitting her emotions to in times of distress. Despite her inexperience of not fighting for so long, she certainly had not lost any particular skill.Considering she was able to give Orochimaru a run for his money many years after leaving the Village.
After these years had went by, she would be asked to become the fifth Hokage by Jiraiya-after Orochimaru had apparently killed Hiruzen and attacked the Leaf Village, at first she she refused, however after a young boy who shared the dreams her loved ones did( Becoming a Hokage) , her thoughts began to change. Finally after fighting her former Teammate Orochimaru and his assistant Kabuto, with a now 28 year old Shizune and a 50 year old Jiraiya backing her up; she re-decided she would become the next Hokage so she too could put her life on the line, as so many before her did.
Her Hemophobia was ridded from her body, and she began her reign as Hokage, hoping one day the boy who inspired her would become Hokage, and fufill the dreams her lovers once had.
Family:


Nawaki (Younger brother)

Hashirama Senju (Grandfather)

Mito Uzumaki (Grandmother)

Tobirama Senju (Granduncle)

Dan (Lover)
RP Skills:
Sample:
It was just another typical day in the Leaf Village. The Sun shined intensely over the many various buildings, and through the pane of hard glass which led into the Hokages Office of the Hokage Building-where the tempramental Tsunade sat.Taunted by the huge towers of paperwork which lay before her she slammed a solid fist into the surface of the desk which her arms lay on. The many sheets of paper and various writing equipment jetted themselves off the table and onto the hard wodden surface of the floor.
Tsunade growled in anger. " Such impudence! How can I be expected to complete so much of this rubbish with so many other pressing matters to attend to!? HM! It can be left until later, I for one refuse!" .Tsunade pulled herself up and out of her chair and looked out over the bright and happy Leaf Village. She gave a warm smile as she saw so many children playing outside together. They jumped over a long yet seemingly thin skipping rope, while others drew on rocks with chalk.
The whole sight of such small children would remind of her when she was just a child. Of course, she was raised up by strict and hotheaded parents. Her parents unfortunatly did not gain the ability of wood manipulation that Hashirama did, and thus neither did Tsunade. As a result she was forced to simply train all day using the basics she learend from the academy, getting little time to play with her own friends. Of course, being from the Senju Clan, she too was somewhat of a genius- discovering a talent for Medical ninjutsu and precise chakra control at a very young age.
In seeing one of the small children tripping over the skipping rope and hitting his knee against the tough rocky ground, Tsunade tilted her head as a pityiful gesture, before jumping out of her office window. And appearing seemingly, out of nowhere -beside the young injured boy. A green chakra began to envelop her left hand, and with the palm held so close to the injury, the small cut with disappear in a mere second. The young boy, as well as his friends around him looked at Tsunade in awe as to the skill in which she had displyed. "There, all better" Tsunade said, with a warm smile on her face.
She began making her way back to her office, with a happy grin after seeing the children so shocked. She sucumbed to her emotions and closed her eyes, allowing the breeze to make its cool trajectory through the many strands of her hair. With such a peaceful environment around her, She began to reminisce back to when she was just a small child..
Hashirama: Ahh! Tsunade, a Healing Jutsu! You don't see many 6 year olds doing advanced Jutsu like that. Such things are to be expected from my grandaughter of course.
He patted Tsunade on the head, ruffling her cute blonde hair-before exiting the building to head out to; presumably the Hokage Building. Meanwhile Tsunades healing Jutsu continued to flare around her hands, and the small dead fish which lay before her, was now flipping all over the place. The 6 year old Tsunade began giggling and thus..Tsunades thought vanished once more.
Summon Link:
No current link. But Katsuyu is canon.
Other Characters:
N/A