Post by Sauske Uchiha on Aug 7, 2010 18:41:53 GMT -5
Character Name:
Sauske Uchiha
Gender:
Male
Appearance: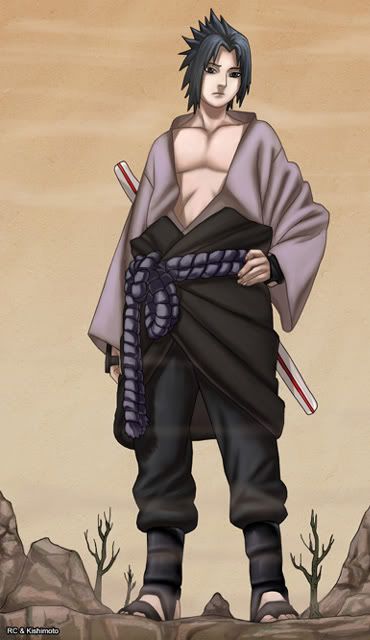 Village:
sound
Fighting Style:
Although Sasuke has been skilled with taijutsu since the start of the series, his skills improved drastically after his encounter with Rock Lee. Not only did he emulate Lee for moves like his Lion Combo, but, by copying Lee's speed, he was also able to effectively use the Chidori. His fighting style in Part II mainly relies on his speed and the new addition of his chokuto, to which he has demonstrated masterful swordsmanship. During his time with Orochimaru, Sasuke's already impressive speed saw a huge leap, allowing him to move huge distances in the blink of an eye as if teleportation. He also greatly increased his speed at making hand seals, being able to do many in a blur and launch an enormous amount of weapons just as quickly, as seen during his fight with Itachi. His physical improvements are so great that Sakura even suspected that he had been given drugs to improve his physical capabilities. His increase in skill allowed him to easily defeat, without killing, hundreds of Sound ninja in a single battle without sustaining so much as a scratch to himself.
Weapons:
Sword and normal ninja armament
Jutsu's:
naruto.wikia.com/wiki/Sauske
Personality:
Sasuke's personality recently reverted to about the same as when he first met Team 7, although his revenge against Itachi took precedence above all else, including his own life. He also claimed to have cut all ties to his life in Konoha, believing that they were the cause of his weakness, going as far as attempting to kill Naruto, whom he spared in their previous battle, to prove how detached he was. Despite this, Sasuke seemed unwilling to needlessly kill in his quest for revenge.
Age:
15
Rank:
Missing Nin
Fears:
(*)
Past Up Till Now:
Sasuke debuted in Part II during a meeting with his replacement in Team 7, Sai. Sasuke wasn't interested in the slightest, and was more interested in Orochimaru's presence. When Sai stated that he might be able to get along better with Sasuke than he did with Naruto, Sasuke froze him with a stare, catching Sai in a genjutsu exuding a large amount of killing intent. Sai was amazed that even an emotionless person such as himself was affected by Sasuke's gaze, showing the power of his Sharingan. When Sai commented on how Naruto and Sakura had been searching for him, Sasuke once again regarded him with indifference.
Later, when Sai entered his room while he was resting, he told Sasuke that he wanted to repair his and Naruto's bond together. Sasuke then blew up the room, angered that he had been woken up to hear about bonds, his action drawing Naruto and Sakura to their location. Despite this being the first time in three years that they had seen each other, Sasuke expressed his usual indifference towards his former team. Uninterested in going home with them, Sasuke engaged them in battle, showing off his increase in speed and improved abilities.
They were little match for him, causing Naruto to begin struggling with the Nine-Tails' chakra. Sasuke used his Sharingan to enter Naruto's mind to meet the Nine-Tails itself, finally discovering the source of Naruto's strength, and managing to suppress its influence. Before releasing Naruto, the Nine-Tails warned Sasuke to not kill Naruto, or he would live to regret it forever. Back outside, Sasuke decided to finish off his former team-mates, only to be stopped by Orochimaru. Listening to Orochimaru's plan to use them to thin Akatsuki's numbers, he left with Orochimaru and Kabuto.
Family:
Itachi all else dead
RP Skills:
Sauske sat on a mountain of unconscious and heavily injured ninja. He had just finished a training session with Orochimaru and he sat day dreaming about the days where things were happier. When he still had a clan and a family and he wasn't taxed with the duty of killing his own brother to avenge his clan. Back when the only thing that was bothering him was that his father payed too much attention to Itachi and not enough to him and that Itachi would not teach him Kunai technique. How silly he was back then. He stood up and opened his eyes and saw that Orochimaru had produced hundreds more training subjects and that they were running toward him. He activated his Sharingan now was not the time to daydream.
Summon Link:
snake
---
Now:
(none of this is mandatory)
Friends:
(*)
Team Members:
(*)
Personality now:
(it is possible for your characters personality to change as you role play)
What has happened so far:
(Briefly record what events has happened as you have role played)